Mold Information…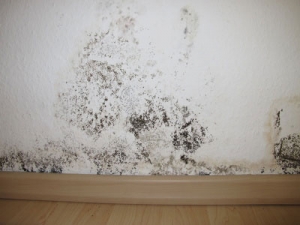 What is Mold? Molds are fungi. Molds grow throughout the natural and built environment. Tiny particles of mold are present in indoor and outdoor air. In nature, molds help break down dead materials and can be found growing on soil, foods, plant matter, and other items. Molds produce microscopic cells called "spores" which are very tiny and spread easily through the air. Live spores act like seeds, forming new mold growths (colonies) when they find the right conditions.
What does mold need to grow?
Mold only needs a few simple things to grow and multiply:
Moisture
Nutrients
Suitable place to grow
Of these, controlling excess moisture is the key to preventing and stopping indoor mold growth.
Should I be concerned about mold in my home?
Mold should not be permitted to grow and multiply indoors. When this happens, health problems can occur and building materials, goods and furnishings may be damaged.
Health Effects
Mold can affect the health of people who are exposed to it. People are mainly exposed to mold by breathing spores or other tiny fragments. People can also be exposed through skin contact with mold contaminants (for example, by touching moldy surfaces) and by swallowing it.
The type and severity of health effects that mold may produce are usually difficult to predict. The risks can vary greatly from one location to another, over time, and from person to person.
What symptoms might I see?
The most common health problems caused by indoor mold are allergy symptoms. Although other and more serious problems can occur, people exposed to mold commonly report problems such as:
Nasal and sinus congestion
Cough
Wheeze/breathing difficulties
Sore throat
Skin and eye irritation
Upper respiratory infections (including sinus)
Are some molds more hazardous than others?
Some types of mold can produce chemical compounds (called mycotoxins) although they do not always do so. Molds that are able to produce toxins are common. In some circumstances, the toxins produced by indoor mold may cause health problems. However, all indoor mold growth is potentially harmful and should be removed promptly, no matter what types of mold is present or whether it can produce toxins.
Mold Clean-up and Removal
To clean up and remove indoor mold growth, follow steps 1-6 as they apply to your home.
Identify and Fix the Moisture Problem – the most important step in solving a mold problem is to identify and correct the moisture sources that allowed the growth in the first place.
To keep indoor surfaces as dry as possible, try to maintain the home's relative humidity between 20-40 percent in the winter and less than 60 percent the rest of the year. You can purchase devices to measure relative humidity at some home supply stores. Ventilation, air circulation near cold surfaces, dehumidification, and efforts to minimize the production of moisture in the home are all very important in controlling high humidity that frequently causes mold growth in our cold climate.
Begin Drying All Wet Materials – For severe moisture problems, use fans and dehumidifiers and move wet items away from walls and off floors. Check with equipment rental companies or restoration firms to see if you can rent fans and dehumidifiers.
Remove and Dispose of Mold Contaminated Materials – items which have absorbed moisture (porous materials) and which have mold growing on them need to be removed, bagged and thrown out. Such materials may include sheet rock, insulation, plaster, carpet/carpet pad, ceiling tiles, wood products (other than solid wood), and paper products. Likewise, any such porous materials that have contacted sewage should also be bagged and thrown away. Non-porous materials with surface mold growth may be saved if they are cleaned well and kept dry (see step 4).
Clean Surfaces – surface mold growing on non-porous materials such as hard plastic, concrete, glass, metal, and solid wood can usually be cleaned. Cleaning must remove and capture the mold contamination, because dead spores and mold particles still cause health problems if they are left in place.
Disinfect Surfaces (if desired) – after cleaning has removed all visible mold and other soiling from contaminated surfaces, a disinfectant may be used to kill mold missed by the cleaning. In the case of sewage contamination, disinfection must be performed. Contact your home inspector for advice.
Remain on Mold Alert – Continue looking for signs of moisture problems or return of mold growth. Be particularly alert to moisture in areas of past growth. If mold returns, repeat cleaning steps and consider using a stronger solution to disinfect the area again. Regrowth may signal that the material should be removed or that moisture is not yet controlled.